Call for Papers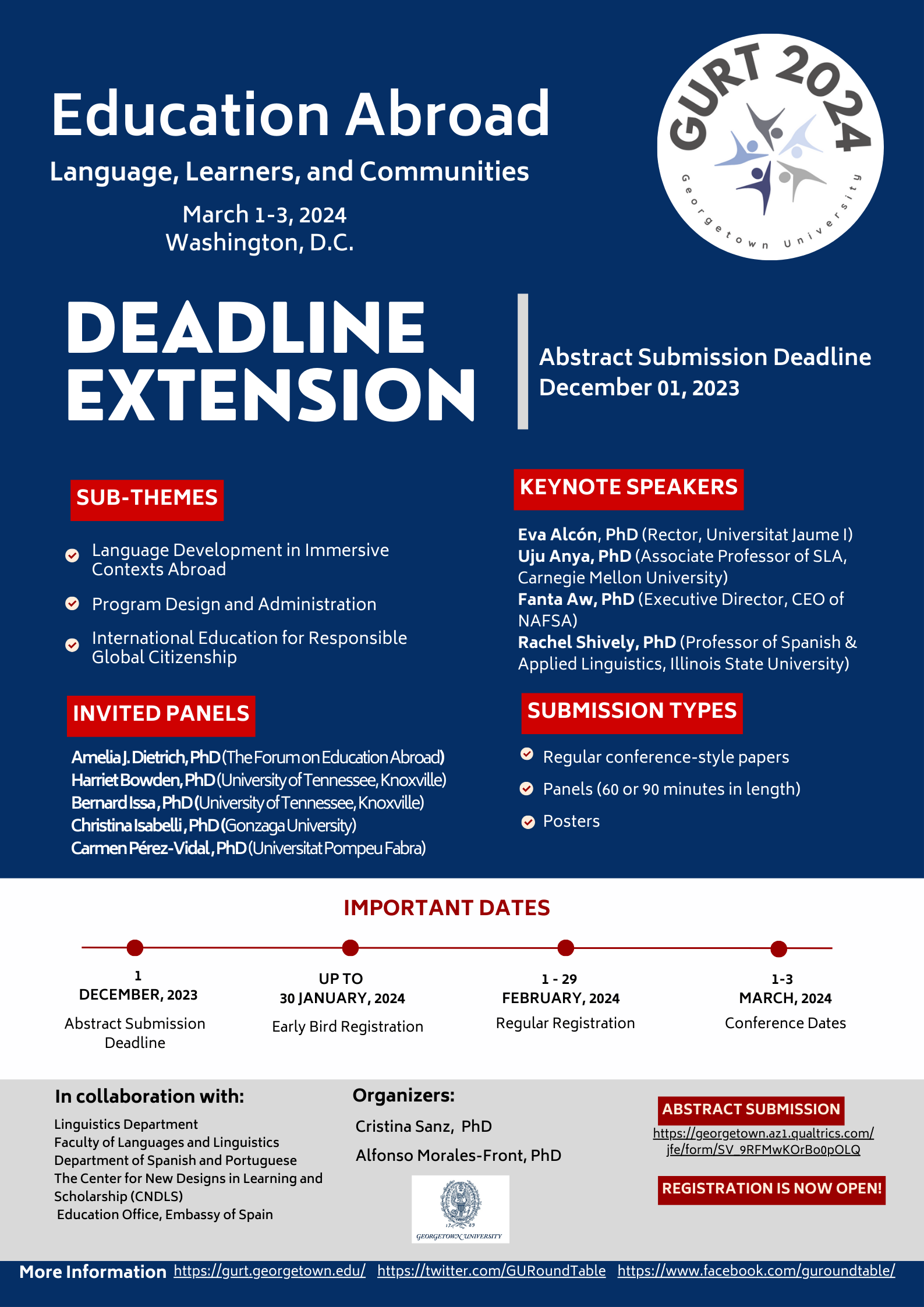 The Organizing Committee cordially invites abstract submissions from scholars, educators, administrators, and students for the GURT 2024 conference, which will be held from March 1st through March 3rd, 2024 on the Georgetown University campus. Papers, posters, and panels may address any topic related to the conference theme of Education Abroad, though we especially encourage submissions on these topics
We invite proposal submissions for:
Regular conference-style papers (20 mins presentation + 10 mins discussion)
Panels (60 or 90 minutes in length): Session organizers should submit a proposal of no more than 500 words describing what kind of session they would like to hold, the motivation for the session, who will participate, and how the time will be used. Additional participants should be listed as co-authors on the submission form.
Posters: Presenters are expected to display posters (a brief text mixed with some visuals including charts, graphs, tables, and diagrams) that can facilitate discussion.
Submission
Abstracts can be submitted by clicking on the button below. The deadline for submissions is November 15.
Abstracts should be a maximum of 500 words in length, copy/paste from your document onto the form. If you have references, tables, and figures, you can save them as a pdf and upload them. The limit is 250 words. To preserve anonymity during the peer-review process, authors should not include their names or reveal their identity anywhere in the abstract, including the references and the pdf document properties when there is one. Any person may submit at most one single-authored paper, and an author can appear as a first author once. However, there is no limit to the number of co-authored abstracts one may submit, or to the number of panel sessions an individual may participate in.
Panel submissions: Panel organizers are responsible for submitting the proposal on behalf of all colloquium participants; they also serve as liaison between participants in the panel and the GURT24 program committee. Proposals Include a general abstract describing the content and the coherence across the individual presentations as well as a 50-word summary for the panel. Proposals should specify a) the number of presenters, b) the total length (60/90/120 minutes) of the panel and of each presentation, and c) the format or structure of the session. Please make sure to allow time throughout the colloquium for Q&A and discussion.
---
Review Criteria
Review criteria include promise of a novel and productive contribution to the field; clarity and evidence of a well-organized, engaging presentation; and relevance to the GURT-24 theme.